Description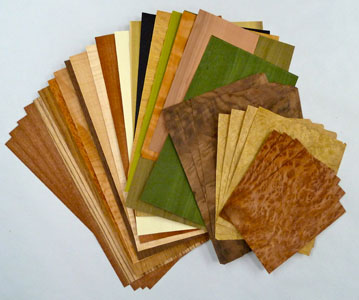 10% savings off retail
This kit is a selected set of veneering tools, wood veneer, glues and supplies to get  started in the art of decorative veneering and marquetry comprised of veneering tools, wood veneer, glues, veneer softener, and supplies to get you started in the art of decorative veneering and marquetry. These tools and supplies are used by students and experienced craftsmen to make veneering and marquetry surfaces, for art and furniture. The veneer selection includes enough sequenced burls, domestic and exotic woods to do several small projects start to finish. (Please note that the DVD / Booklet 'Decorative Veneering' and 'Marquetry' are ordered separately)
Item List & Description
Roll of water gum tape 3/4″
Blue 3/4″ masking tape
Veneer Softener (8 oz.) Flattening Solution
4 oz Dark Dry Urea Resin glue
4 oz White Dry Urea Resin glue
8 oz Pro-PVA glue
2 project cartoons
Veneer nails (one bar)
Twelve scroll saw blades #2/0
Tape removing knife
40mm Veneering Chisel
V-tong (veneer tweezers)
Scalpel handle
Five knife blades
Brass fine bristle brush
Veneer saw
Veneer saw file
Clear Polyethylene Plastic for glue-up
Bushing Canvas, 9″ x 14″
MDF Core, 1/4″ x 8-1/2″ x 13-1/2″
2- Paper Chip board Cartoon Backer 8-1/2″ x 14″
Veneer woods are: 12 sheets of 4″ x 8″ (approx) of various burl. These are three packs of 4X sequenced Walnut or Imbuilia burl, Mappa or Maple burl, Madrone or Redwood Burl for creating a total of three, 4-way matches. 12 sheets of various contrasting exotic and domestic woods, 3 dyed woods include black and 2 shades of green dyed veneer.