DVDS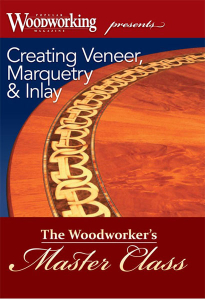 E201. Creating Veneer, Marquetry & Inlay DVD
by Popular Woodworking Magazine.
Journey into the shops of some of the most respect masters of inlay and marquetry, to take in an experience you'll never forget.
---
BOOKS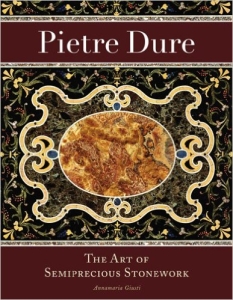 Pietre Dure: The Art of Semiprecious Stonework
(Getty Trust Publications: J. Paul Getty Museum)
Pietre dure (Italian for "hard stone") is mosaic design made from semiprecious stones. This comprehensive survey looks at the uses of decorative stonework and the variety of techniques used to produce it from prehistory to the present day, focusing especially on the period from its rebirth in sixteenth-century Rome through the developments of the nineteenth century. The history of pietre dure in the modern era began in Rome in the 1500s where, thanks to patrons' commissions, new techniques and new types of designs appeared, intended for interior and furniture decoration. These innovations spread throughout Italy in the seventeenth century, producing the most spectacular period in the history of pietre dure in Florence under the Medici. In the eighteenth century numerous royal workshops based on the Florentine model appeared across Europe, under the patronage of the Hapsburgs in Prague, Louis XIV in France, and Frederick II in Prussia.
Annamaria Giusti's richly illustrated book captures the beauty and craftsmanship of this ancient technique for "painting in stone."
ISBN-10: 0892368497
ISBN-13: 978-0892368495
Buy on Amazon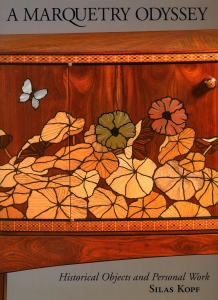 A Marquetry Odyssey: Historical Objects and Personal Work
by Silas Kopf
A combined cabinet-maker's monograph and history of marquetry, it features more than 300 color plates over 230 pages. This volume offers an approachable introduction to the art of marquetry through the writings and work of scholar and artisan, Silas Kopf. This richly illustrated presentation of the art of marquetry is placed in context by one of its most ardent and talented proponents: Silas Kopf. A distinguished cabinetmaker for more than thirty years, Kopf identifies the origins and influences of numerous decorative arts and architectural movements that have impacted his own work, from objects created in ancient Egypt, and during the Italian Renaissance to inspiration he has drawn from seventeenth century British and Dutch furniture makers in addition to the work of Art Nouveau artists like Louis Majorelle. Kopf is a lifelong observer of objects of marquetry starting with his apprenticeship with artist Wendell Castle and later as a student of the Ecole Boulle in Paris where he learned the traditional art of marquetry and absorbed the work he saw in the museum collections. All of these influences are present in this piece-by-piece narration of Kopf's own development as an artisan, designer and scholar, writes Glenn Adamson, Head of Graduate Studies and Deputy Head of Research, Victoria and Albert Museum, London, who contributes the foreword. The final product is a volume filled with historical examples of marquetry next to Kopf's own work that provides deep insight into this artform.
ISBN-10: 1555952879
ISBN-13: 978-1555952877
Buy on Amazon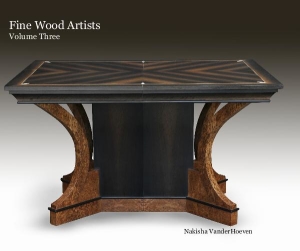 Fine Wood Artists Volume Three
by Nakisha VanderHoeven
This is the third volume showcasing all new work by premiere contemporary artists who work with wood. More can be found at finewoodartists.com
Buy on Blurb.com